Over a million doses administered by trusted veterinarians since 2006
Dr. Laura Werner of Hagyard Equine Institute and US Equestrian's Combined Driver Jacob Arnold
Internationally Acclaimed 3-Day Eventer Liz Halliday-Sharp & Dr. Laura Werner of Hagyard Equine Institute
"In the treatment efficacy portion, joints of Polyglycan® treated horses had fewer microscopic articular cartilage abnormalities as well.

There has apparently been no report of any clinical or radiographic consequences in this location with clinical use in the horse."

C. Wayne McIlwraith, BVSc, PhD, DACVS, DACVSMR
Orthopaedic Research Center, CSU

David D. Frisbie, PhD, DACVS, DACVSMR
Orthopaedic Research Center, CSU

Excerpts from a summary document prepared by the Co-Principal Investigators of a CSU study in response to concerns raised from their paper that the use of intravenous administration of Polyglycan® might cause harm.
About Polyglycan and Joints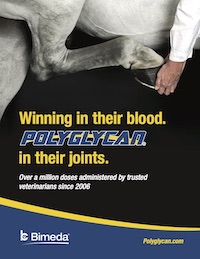 Polyglycan® is a patented formulation designed to replace lost or damaged synovial fluid. It contains naturally-occurring components of the synovia that play a central role in maintaining the homeostatic environment of the joint.
Properties
Glycosaminoglycans are important components of all extracellular tissue structures including cartilage and synovial fluid.
The active components in Polyglycan® show viscoelastic and polyionic properties similar in nature to synovial fluid.
Patented 3-component formula has demonstrated characteristics beyond any of these components used individually.
Benefits
Help replenish lost synovial fluid with naturally occurring elements
Assist in normalization of synovial fluid viscosity
May be used for post-surgical lavage of the joint cavity and surfaces