Over a million doses administered by trusted veterinarians since 2006
Dr. Jonathan Furlong & 3-Day Eventer Caroline Martin on Polyglycan
Dr. Laura Werner of Hagyard Equine Institute and US Equestrian's Combined Driver Jacob Arnold
Internationally Acclaimed 3-Day Eventer Liz Halliday-Sharp & Dr. Laura Werner of Hagyard Equine Institute
Stephen P. Dey III, VMD with Richard "Nifty" Norman, Standardbred Trainer
I have continued to use Polyglycan as a standard postoperative parenteral treatment as well for essentially all of my orthopedics.

"I began using Polyglycan in a clinical setting over 10 years ago, initially as a post-surgical lavage following arthroscopic surgery. Soon afterward I began routine administration on a weekly or bi-weekly basis on athletes with musculoskeletal maintenance issues as well as young developing horses with developmental orthopedic disease. I have continued to use Polyglycan as a standard postoperative treatment as well for essentially all of my orthopedics. I have encountered no adverse effects from either route of administration of Polyglycan.

In addition to using Polyglycan in racing athletes and sport horses, I routinely recommend its use in weanlings and yearlings with synovitis and joint effusions that are the result of osteochondrosis lesions. I also frequently administer Polyglycan in foals undergoing treatment for septic arthritis. I have not experienced any adverse reactions with the use of Polyglycan."

Robert J. Hunt, DVM, MS, Diplomate, ACVS
Hagyard Equine Medical Institute, Lexington, KY
About Polyglycan and Joints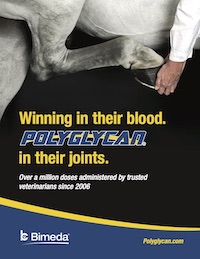 Polyglycan® is a patented formulation designed to replace lost or damaged synovial fluid. It contains naturally-occurring components of the synovia that play a central role in maintaining the homeostatic environment of the joint.
Properties
Glycosaminoglycans are important components of all extracellular tissue structures including cartilage and synovial fluid.
The active components in Polyglycan® show viscoelastic and polyionic properties similar in nature to synovial fluid.
Patented 3-component formula has demonstrated characteristics beyond any of these components used individually.
Benefits
Help replenish lost synovial fluid with naturally occurring elements
Assist in normalization of synovial fluid viscosity
May be used for post-surgical lavage of the joint cavity and surfaces